I'm working on a mobile app (starting with Android) and these are some screens:
Install the apps
Free:
Premium:
Done
- Pitmasters (show/edit)
- Channels (show/edit)
- Alarm option (with notification to stop the time)
- Timer option (with notification to stop the alarm)
- Remote and local connection settings
- Logbook, you can record full bbq sessions (it pulls data from your device every 10 seconds, you can add notes and images etc)
- Share logbook values (generate 1 big infographic?? ... ideas...)
- Share / save Graphs
- Wear OS support- Presets
Work in progress
- Translations
- Some more features for iBBQ users
- ?? let me know ??
Join the Beta program@!!
Free
Premium
More info
SoGrill allows your to record your full BBQ session and share it with friends. Take notes and save images of that awesome piece of meat. And look at your bbq session as one big timeline.
www.slogrill.eu
(these links dont work at the moment, but when Google finished reviewing the app, it should work..)
Wear OS supported!: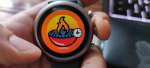 What are you guys ideas? Please stick to English as my German isn't that good
Best Regard,
Mark
Zuletzt bearbeitet: